First let me introduce myself!
My name is Roy Ellis, now also known as Mr. Symarip.
Making my first recording way back in1962, been young and ambitious trying to get in the music business…
I met a guy called Sonny Burke, he was a singer and saxophone player and producer. He was always looking for young talent at that time, so I went to him to introduce my self to him. I remember this time very very clearly. It was in December 1962 just a few days before Christmas. He asked me to sing a song so that he could hear my voice without backing music. In this time Ska music had just reached England. I asked him what should I sing? and he said, any song that you know. I began to tremble, then I asked him just like that without backing? and he said yes, if you want to be a singer you should able to sing without backing music. So been it was geting near to Christmas, I sang the christmas song 'Jingle Bells' and play a Ska rhythm with my mouth, while I was singing then. He and his friends began to laugh, I got very embarrass not knowing that they meant it well. So I kept on singing and playing the rhythm, and they all started dancing and claping their hands, then when I stoped singing, he looked at me and said: "boy yo good no blud clat" (I've never seen something like this before). Then I was very happy, he asked me "do you have any songs that you wrote?", I said no "not yet!", he said to me, "if you can write or come up with some good idea, I could record you" (at this time not knowing that he was a thief).
Well I tried to write some songs. I came with three titles that I wrote:
1. I Don't Want You Anymore (ska)
2. Everyday You Got Me Crying Girl (ska)
3. Mr.Wang (ska instrumental)
He liked all three of them, but he only recorded two. In the studio at that time playing rhythm Guitar on the record, was the master, Ernest Ranglin, on the organ was Georgie Fame, on the piano was Tony Washington, on Trumpet was Eddy Tantan, who much later beceme one of the member of Georgie Fame & the Blue Fame Band.
So we recorded the songs 'Everyday You Got Me Crying' as a A side, and the B side was Mr.Wang.
It came out on a little lable called 'Ember', in this time I was the first young black Man in England who had a record that was played on every Sound System.
In the black clubs, dance halls and house parties it was not a hit, but many people knew me all over London. But still I didn't get one cent from that record, all what I had from that record was a chinese dinner. But it didn't matter to me at that time. I just wanted to sing and to be known. The record was selling only between the black people, the British people didn't know anything about Ska Music at that time.
Then, in 1963, the Ska music really stormed England, it kills the Rock'n'Roll and the Twist, now everyone was getting into the Ska music. The Skatalites were the kings of Ska, they were backing almost every singers from Jamaica. In this time Don Drummond and Roland Alphonso were the masters for me, and because Don Drummond was my idol, I went out and bought me a Trombone to learn, and try to play like him. I started to learn myself with music books for the trombone, but it was very difficult to play, so in the same year Rico Rodriguez had just came to London. We met in the same year and I got to know a little. I asked him if he would give some lessons on the trombone and he said "yes!". So the lesson went on for a while, on and off because he was playing a lot, and also he didn't have much patience with me. So I quit and try with my books and do what I can by playing by ear, listen to the style of Don Drummond. Over the years it started to get better.
Then, also in the same year, I met Monty Neysmith. He came to London to study law, at that time I was a very good friend with his cousin, his name was Barry Biggs, he had just left school. So Monty and I also became friends until this day. So as time went by I found out that Monty could play the piano, and in that time I had a piano in my apartment and he used to come and play on it. Then I got to be friends with Owen Gray and he used to come and jam on my piano. We all would sing and have fun, not knowing that my apartment would turned out star like Barry Biggs. Owen Gray was already known from Jamaica, anyway.
I strated a band together with Monty and some other guys, but the band didn't last long. Some months later I found out there was a very young band who was rehearsing in a hall very near to my apartment, they called them self The Bees, at that time they had just finished school, they were rehearsing music from the Beatles and the Rolling Stones. So one night I went to listen them playing, I took my trombone along with me and asked them if I could join in with them, they said "no", they don't want no trombone player, but I didn't listen to them, I just kept on blowing my horn, in this time I was a rude boy, so they were a little afraid of me. But after they saw that I could play al ittle, they told me I could join them.
A few months leter they asked me if I know an organ player. I said "yes I know one!" So I introduced Monty to them. I got them to stop playing the pop music and get into Ska. We started to rehearse. Then they found out that I could sing, at the same time they were having some problems with the lead singer and the guitar player, so I got them a guitar player, this was Josh Roberts, they dismissed the other guitar player. So we started rehearsing daily, we were geting better and better every day and as time goes by we started to get gigs in small clubs, weddings, birthday parties, etc. Then we add in a saxophone player, his name was Roy Bug Knight. Then the band realy started cooking.
We played one night in a club in Dallston, north London, and we met this guy called Charlie, he was the club owner, he felt in love with the band and said he would like to be our manager, and we said "yes!". He said "if I'm going to be the manager from the Bees, I would like Roy Ellis to sing, because he's got a better voice than the other singer". Then he put the other singer out. So now I was the lead singer for The Bees, singing and playing Trombone. One year later we were playing in all the top clubs, we also recorded a single that I wrote called 'Every Day You Got Me Crying Girl' with this manager, Charlie, It was also a very good song for the Bees, but also nothing happen with that record. As time goes by nothing was gonig on with this manager so we left.
The same year we found out that a guy called Laurel Aitken was looking for a backing band. So we found to him, and we played for him so that he could listen, and then he said: "very good, I'll use you guys", in this time we were 6 guys in the band. So we backed Laurel Aitken all over England, the people loved us, everywhere we played with Laurel it was great, Laurel was singing his program with a lot of evergreen in Spanish, and in English, and also songs that he wrote. He was also a known promoters in England between the blacks. So when we didn't back Laurel, he used to book us in other places alone, as the Bees.
One day he said: "I'm going to introduce you guys to a record company in London west end. They're called Melodisc and the label was Blue Beat.
Laurel took us there and he introduced to Siggy Jackson, he was the manager from the Blue Beat label, then shortly after Laurel Aitken wrote and recorded 3 songs for us, titles A side 'Jesse James Rides Again', B side 'Because I Love You'. Later we wrote and recorded another title called 'Prisoner From Alcatraz'. But still nothing happen with those records, but we stayed on with them for a while.
At that time Prince Buster had just hit the British charts with the rap Ska song 'The Ten Commandments Of Men'. Siggy Jackson and Laurel Aitken got Prince Buster to come over to tour England. He came over with the great guitar player, his name was Lyn Taitt, master for Rock Steady and Ska music, and also a saxophone player, his name was Carl Grifith from Trinidad, great player.
After the tour the sax player stayed with us, now for a while we were now 7 guys in the Bees. At this time The Bees were the only band in England who played Ska and Rock Stead, so Laurel got us to back Prince Buster on his tour. The Bees also had a great success, because we got the chance to perform in the white clubs and to introduce the Ska and the Rock Steady. So now, The Bees was known not only by the black people, but also by the whites, and now we were going places.
After the tour was finished the Bees performed all over England, also in places that Prince Buster didn't go, places like the British Islands. In 1966-1967 we had the chance to meet Eddy Grant, at this time the saxophone player, Roy Knight, was living in the house from Eddy Grant's father, in this time Eddy was the band leader and guitarist from the mega band 'The Equals', with their mega hit 'Baby Come back'. Anyway, he got Eddy Grant to meet us, we asked him if he could do some thing for us, and he said "I'll try!".
Some weeks later he got us together to do some studio work for him, he liked Rock Steady music and we were the only band in this time who could really play that music, all the other bands were playing Soul music, even Jimmy Cliff was only singing Soul music at that time, knowing that he was a Ska man from Jamaica. All the other black bands were criticizing the Bees, and saying that we can only play Reggae, Ska,and Rock Steady, and calling us 'Kings of Ska & Reggae', we didn't like the idea, so we went and told Eddy Grant that we didn't want to play this kind of music anymore. I can remember very clearly, he said: "guys, It's better to be 'The Kings of Ska, Reggae and Rock Steady', than to be 'The King of Nothing'", that was his words.
At that time we were wearing a crown and didn't know it. Anyway, The Bees did the studio work for Eddy, we recorded something like 20 songs that he wrote, all Rock Steadys, when we were finishing recording he said that he was going to write some songs for us, but not with the name Bees, he didn't liked the name. We were thinking he was crazy to say that, so now he introduced The Bees to his manager, Edward Kassner, he was the boss from President Records. He liked the band, and he signed us up, this time we had a real contract, we never had one before, we were very very happy with that, thanks to Eddy.
Now things was happening for us. Eddy Grant changed the name from Bees, to Pyramids. And still we were backing others singers, like Millie Small, Owen Gray, Jackie Edwards, Desmond Dekker, The Pioneers, The Ethiopians, The Maytals, Errol Dickson, etc.
The first song that Eddy wrote for us was under the new name, Pyramids. The title was 'Train Tour To Rainbow City', B side 'John Chewey', we recorded the songs in Rock Steady style, then started to record an LP. It was a great experience for us. Then, after all that recording, we had the chance to tour Spain and France to pioneer the Ska and Rock Steady music. We were touring all over Spain and France playing in night clubs, then one day we were rehearsing in this night club in St.Tropez (France), we got a telegram from Eddy Grant saying that we should try to get back to Englang as quick as possible 'Train Tour To Rainbow City' just hit the british chart, so we had to find a way to get out of the contract. I really can't remember how we get out of thet cantract, I think we started making trouble like, we didn't want to play anymore, getting drunk, etc., and they let out of the contract, and we headed back to England.
Now! Pyramids was getting really famous, we started doing realy big concerts and playing with all the famus top Rock bands, like The Who, Pink Floyd, The Nice (later known as Emerson Lake & Palmer), The Byrds, Reggae band The Upseters, soul singers like Percy Sledge, Ben E. King, Solomond Burke, JJ Jackson, The Show Stoppers and Lulu.
In this time, the music scene in Great Britain, were in the college and university and in big dance halls and ball rooms. At this time we had many fans, but most of them were Mods, Skinheads and Hippies. In 1969, just after the first man had landed on the moon, in that same year, we met Graham Goodhall, he own the lable Doctor Bird and Treasure Isle, he got to do some studio work for Pat Kelly. Then some weeks later he asked us if we write songs of our own, and we said "yes we do". He said "why don't you all come and use the studio and experiment", and we said "great, we will". At that time we were still under contract with President Records, but we didn't care, we just wanted to make music.
Then, some months later, Derrick Moegan put out the song 'Moon Hop'. Now Reggae music was really booming and Ska and Rock Steady was dying out slowly. One day, in the studio, while we were jaming together, Graham Goodhall said: "you guys should take the rhythm from Derrick Morgan 'Moon Hop' and sing something about the skinheads. So, we learned the rhythm and I rap some words that come into my head. Then 'Skinhead Moonstomp' was born. Then after we said "let's change our sound to another style". Then we played the Ska, Reggae & Rock Steady rhythm in one style, played it a little faster, so that the white kids could dance to our music better, and it turned out to be Skinhead Reggae. Ten years later, everyone called our style New Wave Reggae. then much later it was called 2-Tone.
Now Graham was ready to release the record, we said "no! we can't put out this record under the name Pyramids" because we're still under contract with President Records, we couldn't come up with a name so we spelt the name Pyramids backward without the D and it pronounced Symarip, we saw that it fits in well. So Graham said "it's great, we'll use it". So he released the record the next week, and it began to sell thousend weekly. Now, the problem started, we had two hit records under two different names, "what are we going to do now!" At this time both records were playing on all the radio stations,then someone from President Records recognized my voice on the record and told Edward Kassner. He asked us: "did you do some recording with Graham Goodhall, Philligree Productions?" then we answered "yes, we did!", then he said "I heard that the record is in the charts, but you are not alowed to perform with that record, you're still under cantract with President Records". We said that we knew that, but the record had a different name. Then he said: "by law you can't perform with the name Pyramids, because you are under contract with President Records". Then we got very angry with him, we told him that we wanted to get out of the contract because he wasn't doing enough for the band. Then he said: "Ok! get in the studio and make me two LP's with your own compositions and I'll let you off the contract". So we did.
Then I wrote songs like 'Banana', 'E.K. Bunch The Boss', 'Rough Riders', 'I'm a Man Free', 'E.K.Bunch President House' and many more, with Monty together, songs that's still on tape. Then he let us go. Now we were touring under three names Bees / Pyramids / Symarip, while touring around England the skinheads was going crazy about us, so in some clubs we had to have bodyguard and that's how we met Judge Dread, in this time, in 1969, he was a bouncer, and he was a big fan from Symarip, so we played in the halls and clubs, he used to take care of us, not knowing that he would be a big Reggae star one day.
So, as the years went by, we met another record lable, this time it was 'Creole Records' and also an agency for booking concerts, so we were getting a lot of gigs from Creole, so we stayed on with them for a while. We did lots of recordings for them, you can check out the CD 'The Best Of Symarip' and as time went by we were still touring all over England until 1970. After then we did the last concert in Wembley at the 'Ska & Reggae Festival', in 1971.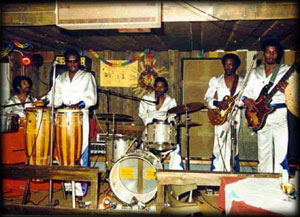 Creole now sent us to Germany to pioneer the Ska & Reggae Music, well: the saxophone and trumpet player decided to leave the band, they were having some family problems, so they didn't wanted to go. So we went as five men get to Munich, Germany, and we started having problem! The german people didn't understand the music, so we went to Austria but they also didn't like the music, then we went to Switzerland, they also didn't understand the music. Anyway we told the agency 'Lipmanm & Row' that we didn't wanted to go back to England. So they told us: "if you want to stay in Germany, you must change your music style and play dance music" and we said: "we'll try". So we changeD from Ska & Reggae to Soul and Funk. So now Pyramids were a dance band. We played dance music all over Germany.
In 1972 we changeD the name again, from Pyramids to Zubaba, and went back to England. Now we were playing Afro Rock music in Santana style. We made new fans again. In London, the people went crazy, we mix the Reggae and Ska rhythm with Afro rhythm. We got some concerts, but not enough to live on. But we still got the chance to record one LP with this style of music on a new lable called 'Intune' but nothing happen with that LP.
So, in 1973, we changed the name back to Pyramids, and this time we went to Switzerland for a while, and then to Austria, as a dance band. In 1978 we headed back to Munich, Germany. The one night as we were playing in this club in Munich, a guy who knew us from London came to us and asked: "are you guys the Pyramids / Symarip from England?" and we said: "yes, we are!" then he said: "what are you guys doing here playing this kind of shit music, a great band like you all, you should be playing your own music, you're such a famous band in England" and we told him: "when you have families to feed, you must try to find work anywhere, anyhow you can". He said: "bull shit! call me next week!", so he gave us his number, and then we called him.
In this time he was one of the producers from Ariola Records in Munich, he was in the Reggae branch, so he introduced us to his boss. In that time all our records from England were released by Ariola in Germany, so they already knew about us. So in the middle of 1979 we got another chance to do our last recording, a maxi single. We recorded 'Banana' again and 'Give Peace A Chance' from The Beatles. And also a new album, the name was 'Drunk and disorderly', and still again nothing happen with the single, or the album. But we still went on touring around, playing in some concerts and in night clubs, and in many hotels.
Then came the big boom in 1980, we got a call from London saying that Trojan Records was searching for Symarip, they didn't know where we were, so they put out a S.O.S on the radio and tv stations to find us. At that time The Specials had just reach nr.1 position in the hit parade with 'Skinhead Moonstomp' and also the orignal 'Skinhead Moonstomp' from Symarip had hit the chart again in the top 40. So they wanted us to come home to appear on tv and do some tours, but we couldn't go, we had signed a lot of contracts with different dance clubs. We were very, very sad, a matter of fact, we cried between one another. Well, we still went on playing in the clubs and hotels and sometimes in halls. Then, in 1988, between Finland and Switzerland, we decided to call it a day and quit, we think we were too long together. We were getting on top of each other nerves, so that was the end of the Bees, Pyramids & Symarip.
Then everybody went their separate ways. So then, Monty Neysmith went to America, Micheal Thomas stayed on in Finland with is family, Frank Pitter went back to England, Josh Robert and my self, Roy Ellis, came back to Switzerland and got married. And ever since I've been here in Switzerland. In the same year I decided to go solo, by singing Gospel songs in the church with a band, and Soul, Blues, Ska and Reggae with half playback. I'm singing live and the music is on tape. Since 1988 until november 2003 I was now again discovered by a team of guys called themselves Rude Attack. They found out that the Boss Skinhead was living in Switzerland since 25 years and they are also fans of Symarip. They interduced me to a great Swiss ska band called 'Kalles Kaviar'.
Well, Mr.Symarip is back from the Moon. After meeting the guys, I have found out that all these years went by and not knowing that the band, Symarip, was a living legend. We even found out that all the 2 Tone Bands and New Wave bands all over the world, are still playing our style and sound and also recording over our songs up to this day.
That makes us very, very proud. Thank you guys where ever you may be.
This is the History of Bees / Pyramids / Symarip.
Now! Have fun by reading and I hope to see you all by the next Ska & Reggae concerts.
My Very Best Regards from singer Roy Ellis now also known as Mr Symarip.
Now let Me Introduce the original ex members of Symarip:
-Monty Neysmith (Hammond Organ & Keyboard)
-Frank Pitter (Drums)
-Micheal Thomas (Bass)
-Josh Roberts (Guitar)
-Roy Bug Knight (Saxophone)
-Johney Johnson (Trumpet)
-Carl Grifith (Tennor & Alto Sax)